1 parent + 1 child = 30% child discount - 1 parent + 2 children = 35% child discount
Hotel Lotus in Marina Centro, Rimini, located a few metres from the beach and a few minutes from the old town centre, it is a comfortable and welcoming 3 star hotel with many facilities dedicated to p... (detail)
From August 24th to 31st, 6 nights all-inclusive from €69 per person per day!
Choose the last week of August for your unforgettable sunbathing and sea sessions in Rimini! No other hotel better than Hotel Lotus in Marina Centro will offer you good fun and joy beyond limits! &nb... (detail)
Offer valid from 24/08 up to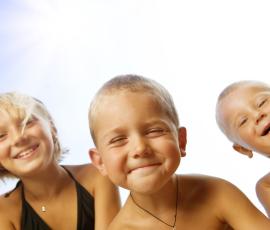 From August 31 to September 6, 2014, kids of any age enjoy a 50% discount
Choose the quiet of September for your seaside vacations and enjoy less crowded beaches, milder temperatures and super convenient prices to close the 2014 summer season in the best way! The L... (detail)
Offer valid from 31/08 up to
From 6 to 13 September 2014, 7 days free of charge for children of any age!
SEPTEMBER OFFER (offer valid from 6 to 13 September 2014) ALL INCLUSIVE PACKAGE 6 NIGHTS: € 279,00* per person Morevover , children of any age will not be charged. *Fees &n... (detail)
Offer valid from 06/09 up to