Lotus Hotel: swimming pool, entertainment, parking space and many services for you
The strong point of our hotel in Rimini is the entertainment and our fabulous pool which is one of the biggest in Marina Centro. The pool is 18x8 m² and surrounded by a gorgeous garden on grounds of 2000 m². On the grounds there is a large garden area there is a solarium with umbrellas and beds and a spacious children's area with a 6x8 metre inflatable castle, bungee trampoline and ball pit.

In addition to having a gorgeous pool, our hotel with playground offers many services to cater to everyone's needs:
Free closed-off parking for all cars
Internet connection and free Wi-Fi
PlayStation corner
Freely available children's strollers
24h kitchen for new mums
Excursions by boat to Cattolica, Porto Verde and Pesaro*
Relaxing days spent game fishing and tuna fishing*
Horse riding in the hills of Sangiovese and Valmarecchia*
Excursions and trips around gorgeous Romagnolo countryside*
*Cultural and gastronomic itineraries and excursions organized by external agencies.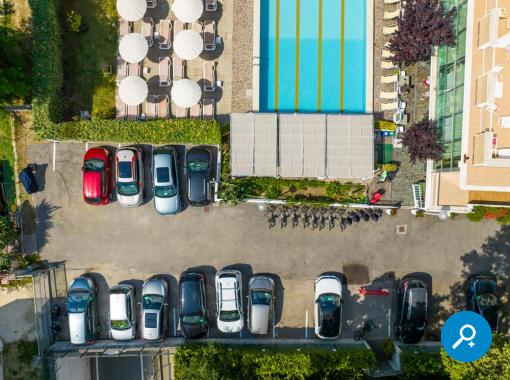 In addition there are many personalized services for children:
Mini club with entertainment up to 8 hours a day(including meal times) 
Personal baby sitter(on request)
Safe fenced off play area
Walt Disney Videoteca
Bicycles with child seat and children's bikes
At the restaurant- flexible meal times, high chairs, children's cutlery and group babysitting service during meals. Kitchen area for new mums and bottle warming
In the rooms- cots, basinets, hih chairs and safety rails.
There are many fun activities for adults and children that are planned and arranged by our staff. From swimming lessons to fun theme parties, from PlayStation comps to Latin American dance challenges, and tourist excursions, trips and much more.